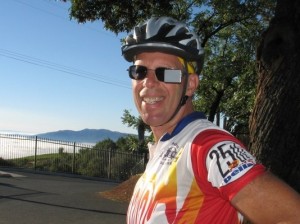 My stint at Family & Children Services (F&CS) came about as a result of my career change into nonprofit Development work in 2003.  Up until then, I was deeply involved as a volunteer not only for Cornell Development activities in our Class and beyond, but also in the Jewish communities where ever I lived.  With my career change, I began working for Stanford Hillel, i.e. For Jewish life at a university, so I decided I would do something different for my volunteer Development work.
I had been interested in human/social services work for quite some time, so I went to the CEO of United Way for Silicon Valley to gety some referrals.  I described to him the key parameters I was looking for in a human/social services agency, he recommended three such agencies, and I then introduced myself and interviewed the three agencies.  They were all amazed that here I was seeking them out, rather than the other way around!  Anyway, I wound up joining the board of F&CS and became a member of its Development and Marketing Committee.  From there, I then chaired the Board Development Committee (typically referred to as the Nominations Committee) and spearheaded the drive to double the size of the F&CS board from 12 to 24, and evolve the Board operating structure from "a committee of the whole" to having the work of the board done through its various committees (just like Cornell does with its Board of Trustees).  Next I was elected to be Chair of the Board, which had a new set of challenges for me.  Two years prior to my becoming Board Chair, the agency had a turnover in CEO, and things had deteriorated to a real low point with the new CEO, exacerbated by some larger issues as I became Chair.  Well, we not only averted disaster, but the agency today, under the leadership of the same CEO, is financially sound and growing 20-25% per year while the other social service agencies around us are contracting and/or closing their doors.  Things have turned out so well, I even have a Chair-Elect who is willing to take over when my term expires this summer.
The annual Tierra Bella rides have been sponsored for the past 32 years by the Almaden Cycle Touring Club (ACTC), in which I have been a member of the past 15 years.  Tierra Bella attracts 2200 riders every year, many of whom are doing their first ever metric century (62.5 miles) or full century (100 mile) bike ride.  The 2200 riders all arrive between 6:30 and 8:30 in the morning.  We have 25 volunteers who are directing the arriving cars to park, sometimes simulataneously filling up to three parking lots 1/4 mile apart from each other.  We then have another five volunteers greeting the drivers and passengers as they get out of their cars.  I have been recruiting and organizing the 30 volunteers every year for the past nine years.  The net proceeds from Tierra Bella are used to help fund bikes for disadvantaged kids, and to support bicycling/pedestrian advocacy  and safety initiatives at the local, county and state levels.  ACTC is a recreational cycling club with just over 1,000 members.